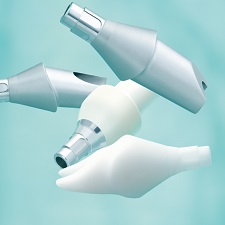 Artistic Dental Design, Inc. has close relationships with some of the leading companies in innovative dental implant restorations. For years, we've been working with implant component manufacturers such as Nobel Biocare, Straumann, Zimmer, ITI, AstraTech, MIS, Sterngold, LifeCore, and many others.
The advantages of working with all these companies is; no matter what dental implant you or your surgeon places, we're able to work with experience and confidences. We can offer you and your patients a full range of temporary, final, custom CAD/CAM implant abutments, and a wide selection of restorative materials.
All of the technicians in our lab work on several dental implant cases each month and they're all familiar with the products from these companies so they have the experience and knowledge that you need!
So, whether you're just getting started with implant restorations or you've been doing them for years; we're here to assist you every step of the way.
You may choose to include any or all of the dental implant components with your cases, or you can send the impression with the impression coping and tell us to "take care of the rest"; we'll order all of the other required parts.
If you're new to the dental implant process, and you find that the number of dental implant companies and dental implant options sometimes seems overwhelming, we sincerely invite you to Contact Us.